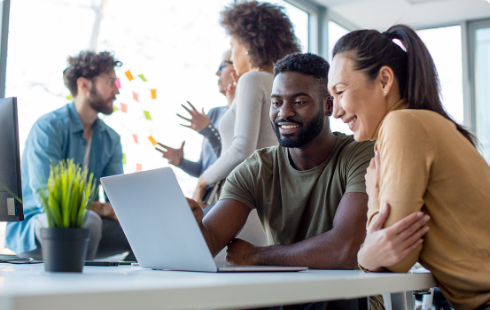 Organizations don't start projects with the intention of outspending the budget, flying past their scheduled milestones, or getting derailed by major risks and issues. But unfortunately, many projects end up that way.
In fact, according to analyst firm Gartner, the number of enterprise resource planning (ERP) projects that fail to meet their initial objectives is approximately 55-75 percent.
Will your project add to this staggering statistic? Or will it buck the trend?
Regardless of the size of your project—or even if it is part of a larger program or portfolio of related efforts overseen by an enterprise project management office (EPMO)—it represents a big investment in your organization's time, money, and resources. Therefore, your team and project sponsors must do everything possible to ensure that the project is successful.
One of the methods gaining attention for its many benefits is partnering with a trusted provider that can deliver Project Management as a Service (PMaaS).
So what is PMaaS, and what can using these specialized services mean for your organization's investments?
Can cybercriminals access your organization's sensitive information? Find out when you download and complete Axians' Cybersecurity Risk Assessment Scorecard. →
What Is PMaaS?
Project Management as a Service involves partnering with an external service provider and having them supply the project and program managers—and often latest tools, methodologies, and industry best practices—to deliver project management services on demand. These professionals can either replace, or be used in conjunction with, internal project managers or EPMO services.
Unlike contracted project managers, these professional project managers are internally employed by the service provider for the long term and are capable of delivering specific project management services for particular industries or technology domains.
PMaaS providers also offer the full suite of EPMO capabilities and services—such as managing portfolios and budgets, designing and executing dashboards and reporting, and developing and managing communications and change management initiatives—to improve overall project quality, delivery, sustainability, and return-on-investment (ROI).
The Benefits of PMaaS
So how could choosing to work with a PMaaS provider benefit not only your projects, but also your bottom line?
Access Experienced Professionals
A growing technology skills gap, paired with all of the costs associated with hiring and retaining experienced project and program managers, makes partnering with a PMaaS provider the best choice for organizations that need to continuously scale their use of professional project managers. This not only removes the human resources burden of finding the right project manager with the right skill set, but also saves you money if project management services are not needed for some time.
Develop Continuity and Consistency
One of the benefits of an EPMO is the structure, professionalism, and consistency of project management delivery. However, not every organization is capable of hiring and managing such an internal function.
At the same time, bringing in individual or contract project managers can result in inconsistent practices and clashes in personalities, causing more stress during project delivery.
With a PMaaS provider, you can trust that the project manager will be able to deliver the right mix of capabilities every time with consistent tools, approaches, and knowledge of your business. This not only saves time, but also allows these project managers to bring lessons learned from one engagement to the next, increasing your chances of success.
Can cybercriminals access your organization's sensitive information? Find out when you download and complete Axians' Cybersecurity Risk Assessment Scorecard. →
Scale Up or Down
Although it is nice to prepare years in advance for a particular project, organizations often do not have that luxury. Instead, a new business need, compliance change, or system upgrade requires experienced project managers to get the job done—sometimes little notice, yet leadership needs the newly-approved project to start immediately.
Having a PMaaS provider means you can leverage your existing relationship to quickly bring on professional project managers for however long you need them, filling up project manager vacancies and freeing up your internal team for more strategic internal efforts.
Reduce Risk
Project management and industry best practices are constantly evolving to help organizations to deliver their projects more economically, more securely, and more efficiently.
Unfortunately, not every internal project manager has the time or resources needed to spend on continuing education, ongoing training programs, or specialized certification attainment and renewal. At the same time, using contractors comes with the risk of high turnover or misunderstandings of your organization's unique qualities.
On the other hand, virtually all PMaaS project and program managers are full-time internal employees with benefits packages and paid training programs, ensuring very low turnover and keeping them current with the very latest industry trends and certifications..
Save Money
In addition to not having to pay hiring expenses or benefits to a group of internal project and program managers, leveraging the PMaaS model can also mean paying less for each individual unit of service based upon the volume of services you utilize.
In other words, instead of contracting project managers one by one, you can take advantage of economies of scale and potentially benefit from lower rates the more you use the PMaaS services, much like other service delivery models.
When you do so, your invoicing, contracting, and account-managing efforts can also be streamlined and consolidated, saving your team time.
Can cybercriminals access your organization's sensitive information? Find out when you download and complete Axians' Cybersecurity Risk Assessment Scorecard. →
Experience the Benefits of PMaaS on Your Own Initiatives
Starting a project is a big investment in your organization—one that needs to be appropriately supported to give it the best chance of success.
Tapping into the many benefits of a PMaaS can not only help you deliver one project successfully, but also enhance your entire project management methodology for broader success.
If your organization is interested in learning more about what PMaaS can do for its initiatives, Axians would love to help. Contact our team to learn more.